---
January 2018 marks 30 years since the decision was handed down by the U.S. Supreme Court. Join us on Wednesday, Jan. 31, 2018 for the first Hazelwood Day of Action — a day to raise awareness about the Hazelwood decision, publicize its destructive legacy and focus on the need for New Voices legislation to protect student journalists' rights.
The Hazelwood Day of Action will kick off a year of activities and collaborations designed to further those goals nationwide. Your ideas and initiatives will make this a success. Get creative and start planning! Will you plan an event and help end 30 years of sickness to "cure Hazelwood?"
Ideas for action
Create and distribute T-shirts that spur discussion about Hazelwood and/or censorship (slogans like: "Ask Me About Hazelwood" or "No Hazelwood, No Censorship").
Distribute stickers or buttons with Hazelwood–related messages.
Plan a rally.
Publish an op-ed piece or other article in local or student media.
Host a guest speaker (see below for virtual speakers).
Host a "No Censorship" bake sale to support your local student publication and distribute information about the "Cure Hazelwood" campaign (maybe even sell Cure Hazelwood bracelets too.)
See if you have a New Voices movement in your state and coordinate activities with it.
Create a video-journal where students (and maybe advisers) can tell their censorship story.
Distribute informational flyers to your student body at lunch time to educate them about Hazelwood and censorship.
Check out SPLC's activities (including Twitter and Instagram campaigns and special Facebook live talks) and join in those activities with people from across the US.
What's your idea? Send it to us so we can expand the list!
Tell us about your event
SPLC-hosted events
Join the SPLC on Facebook Live all day — At the top of every hour throughout the day, SPLC will be broadcasting 10 minute Facebook Live discussions throughout the day with noted folks talking about the impact of Hazelwood. Guests include Cathy Kuhlmeier Frey (yes, THE Kuhlmeier), Mary Beth Tinker (yes, THE Tinker), Senior Legal Counsel Mike Hiestand, former SPLC Executive Director Frank LoMonte, and others. You can integrate these short talks into classes, gather groups of students to watch, or just watch and share with your friends.
Tweet away! Stay tuned for details about our coordinated 30-minute #CureHazelwood Twitter blast which will take place on Jan. 31 (schedule and sample tweets will be available soon on this page).
Post your anti-censorship message to Instagram — The SPLC will be sponsoring a day-long Instagram campaign where we will encourage folks across the country (students, advisers, administrators, parents, school board members, legislators, anyone and everyone!) to take a selfie and post it to join the crusade to Cure Hazelwood!
Need a speaker? We can provide virtual guest speakers for classes, rallies or other events via video call.
Email Director of Engagement Diana Mitsu Klos at dmk@splc.org and tell us:
What type of event do you need a speaker for? (a class? a conference? a rally? a podcast? other?)
How many people do you expect to attend?
What are the date and time of your event?
What is the topic of interest?
What type of speaker are you looking for (lawyer? academic? professional journalist? student journalist? specific SPLC staff?)
How long would you like the speaker to present?
Which technological platforms can you use (Skype? Google Hangout? FaceTime?) — please note that all presentations will be via technology and will not be in person
Who are you and what is your role in organizing the event (are you a student journalist? teacher? administrator? community member? lawyer?)
Best contact information? Please include email and cellphone.
Please let us know your plan, or contact us and let's brainstorm together! Even seemingly small actions can make a big impact. Let us know what you're planning to do — send us your photos, stories, op-eds, blogs, vlogs, posters, etc. so that we can help promote them. We also want to help connect you to others nearby who may be interested in joining forces.
Resources
How to contact officials in your state to express your views on New Voices legislation:
More from our anti-Hazelwood allies:
Journalism Education Association:

National Council of Teachers of English:
Purchase a Cure Hazelwood bracelet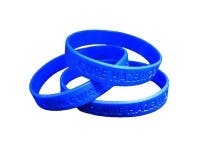 Show your support for efforts to reverse the effects of the Supreme Court's decision in Hazelwood School District v. Kuhlmeier. (Available in sets of 5, 10, 15 and 25 bracelets.)
Images for your use:
Download these images and use them when you share your censorship story on social media, or for flyers for your events.