Internships at the Student Press Law Center
The Student Press Law Center is recruiting two interns for spring 2018.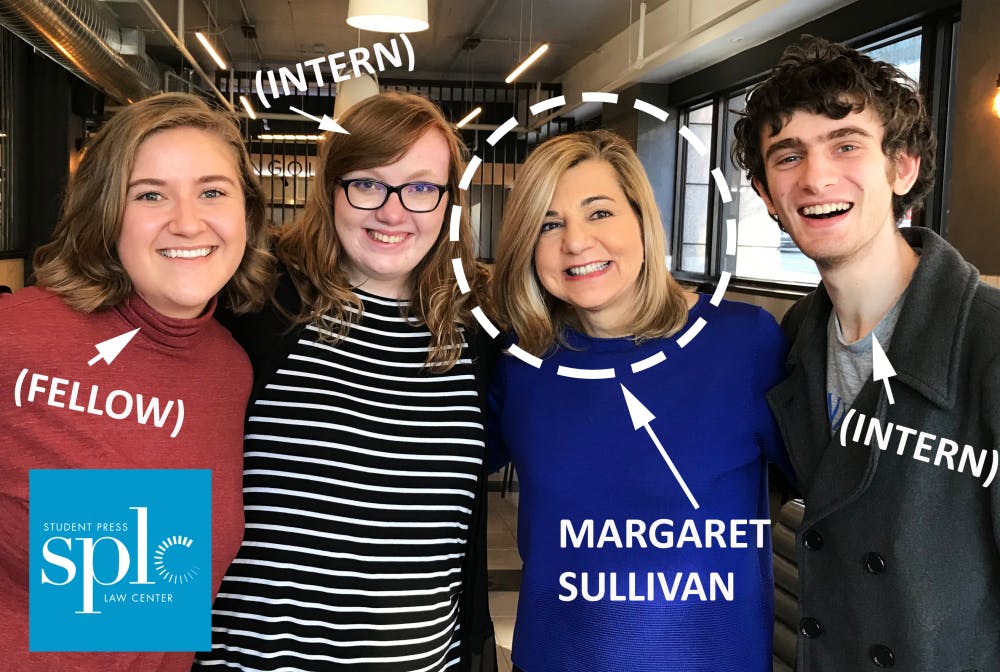 The Student Press Law Center is seeking accomplished college journalists for paid internships in Washington, D.C.
The 15-week internship commences on Jan 29 and concludes May 11.
About the internships
Internships are open to undergraduate and graduate students as well as recent college graduates. We need storytellers who can chronicle student media organizations in perilous times and help SPLC expand its audience and impact.
Being a ranking self-starting editor who juggles multiple stories and engages in strategic planning is a plus.
Stand-out candidates will demonstrate knowledge of copyright law and fair use, the Freedom of Information Act and open meetings laws. It helps to have experience in accountability reporting, covering campus crime, government and school boards/districts. You should also know A.P. style.
Your portfolio should convey that you take complex subjects and break them down into fluid, explanatory news stories.
Experience in writing across platforms, video and podcast editing and understanding web analytics will show that you're a well rounded candidate.
Are you in law school? SPLC offers a summer legal internship for qualified students in law school. Details will be posted on the spring of 2018.
Stipends and housing
SPLC pays a living expense stipend of $7,350 (spring and fall semesters, for 15 weeks). During the summer, it's $5,600 for 10 weeks. Many interns arrange to receive academic credit from their college or university with the endorsement of the SPLC.
The SPLC doesn't provide housing, but will assist interns in finding housing for the semester. Washington, D.C. has plenty of intern housing available, including furnished properties owned by Washington Intern Student Housing (WISH), which gives SPLC interns a 10 percent discount on general rates for spring and fall semesters.
Journalism Interns
You will report to Journalism Fellow Danielle Dieterich. Duties include:
Balancing updates and breaking news on complex legal topics with longer-form storytelling on SPLC.org, its social media platforms and thrice-yearly magazine. Expect to work several stories concurrently. Many will center on the intersection of laws and how student news organizations battle intimidation and/or censorship.
Researching, writing and helping edit the Report, SPLC's magazine that chronicles the state of student press rights around the country.
Taking a multimedia approach to stories, considering from the get-go how a story can be told not only with words, but with photos, video and sound, plus infographics and timelines.
Drafting social media posts related to your stories.
Pitching in from time to time to get organizational tasks done as assigned. We're a small office and work as a team.
Special opportunities for interns
News and current events junkies will love their semester in D.C. In recent semesters, SPLC has organized visits to The White House, The New York Times Washington bureau and heard cases before the Supreme Court. Some have met with The Washington Post's legal staff and attended First Amendment seminars at the Newseum.
About the SPLC
The SPLC is an advocate for student First Amendment rights, freedom of online speech, and open government on campus. The SPLC provides information, training and legal assistance at no charge to high school and college student journalists and the educators who work with them. Founded in 1974, the SPLC is a nonpartisan, nonprofit organization that serves as nation's only organization dedicated solely to the legal challenges facing student media.
How to apply
Assemble a single PDF that includes:
A cover letter that describes your interest in and qualifications for being an SPLC intern.
A current resume.
Three samples of your news writing, or active links to your work.
A recommendation letter that sings your praises and tells us how we can make you a better journalist during your semester at SPLC.
Names, telephone numbers and email addresses of two professional or academic references.
Submit your application for the 2018 internship to Director of Engagement Diana Mitsu Klos at dmk@splc.org.
Deadline
APPLICATION PACKETS WILL BE CONSIDERED ON A ROLLING BASIS AND MUST BE RECEIVED BY EMAIL NO LATER THAN NOV. 28, 2017. NOTIFICATIONS WILL BE MADE BY DEC. 20.